Manual Installation of a Dell Driver Pack on a local machine
If you've ever had to re-load a laptop from scratch, you know that it can be a pain to have to re-install all of the systems drivers one by one and can take hours to do so. After digging into different ways to create custom images for mass deployment using Microsoft's deployment services I discovered that Dell has "Dell Driver Packs" for download. The tricky part is that the download is just one GIANT .cab file and there's no documentation on doing this for a single instance. Now since you can usually accomplish more in less time using the Windows GUI I first tried extracting everything out of the cab but this brought even a powerful system to a crawl. In this particular case it was MUCH faster to do everything from the command line (CLI / DOS). Check out the example below:
First, download the needed cab file to c:\Drivers
Make the folder C:\Drivers\cab
From DOS (As administrator) navigate to C:\Drivers by running:
cd\Drivers
Now run:
Expand –F:* source.cab C:\Drivers\cab
(source.cab being the name of whatever the .cab file is named.)
Now navigate to C:\Drivers\cab\extracted\folders\(x86 or x64 depending on if the system is 32-bit or 64-bit)
Then run:
for /f %i in ('dir /b /s *.inf') do pnputil.exe -i -a %i
This will loop through every .inf file and the system will install every driver that's included.
Here's an example txt file that you can use to either paste directly into your DOS window with some modification or even use it to create your own DOS batch file. I have created this because within WordPress and Windows some characters from DOS or Notepad get automatically altered like double quotes and hyphens so if you typed the syntax above it works but if you copy and paste from your web browser to DOS you get errors.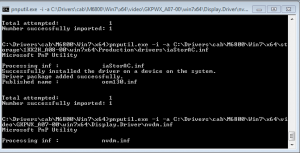 NOTE: If you are installing drivers on a machine that has BOTH Intel and a discrete GPU and would like to follow installation "by the book" you should First install the Intel Drivers either from Dell or directly from Intel and then install the discrete video card drivers from Dell or directly from the manufacturer and then lastly install the driver back as described above. Depending on your make and model of machine this may or may not make any difference but it is worth a note.
Intel's Driver Download Page:
https://downloadcenter.intel.com/default.aspx
This concludes the tutorial for Manual Installation of a Dell Driver Pack on a local machine.
If this article has saved you some valuable time please like and subscribe.