Running Internet Explorer in compatibility mode for an older version of Internet Explorer
You gotta love Internet Exploder. In Microsoft's infinite wisdom they usually break previous features with updates, however Microsoft does have a compatibility mode that you can take advantage of if a particular website isn't working.
Open the site that you need to run in an older version of Internet Explorer and press the F12 key (If on a laptop you may need to hold down the function key <fn> while pressing the F12 key.)
The developer tools box should open. Now click on the icon that looks like a monitor and phone on the lower left.

Under document mode click on the listbox and select the version of IE that you want to run under.
Be sure to not close this box or it will revert to the default version for the page being viewed. Minimize this window and you will be running the selected version of IE.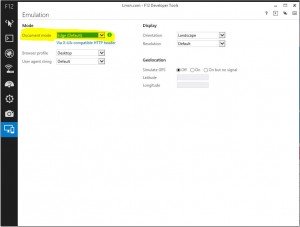 This concludes how to Running Internet Explorer in compatibility mode for an older version of Internet Explorer